I was asked to review this garden hose sprayer by RY Professional Gardening Equipment.
I intentionally waited a couple of weeks to write this review because I wanted to see how this nozzle would work with my delicate spinach seedlings. I am so happy I used this nozzle to water them.
The RAAYA Garden Hose Nozzle is definitely a high quality, professional grade tool. It fits well in my hand and is comfortable to hold.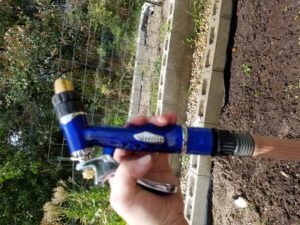 I like the quick disconnect feature. It comes with an extra fitting so I can use it on more than one hose. The hose side of the quick disconnect is made of plastic, but I think it will hold up pretty good. There are extra washers and o rings which is great because those are the most frequently replaced parts. I had no problem with leaks anywhere while using the RAAYA Garden Hose Nozzle.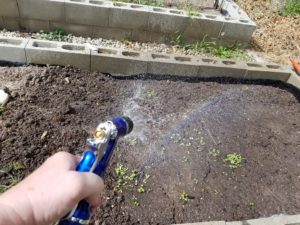 The nozzle goes from a pinpoint stream to a light, wide shower. I planted some fall spinach in my garden and have been very happy with the gentle spray on the little seedlings.
I love the color. It is easy to spot this bright blue tool. It stands out even if it falls among the foliage of my other plants.
I am confident that this will be a garden hose nozzle that won't need to be replaced for a very long time. It comes with a one year "No questions asked" warranty with easy on line registration.
You can get one of these professional grade tools at https://www.amazon.com/RAAYA-GARDEN-Heavy-Duty-High-Pressure-Control/dp/B016PU3MMQ/ref=cm_rdp_product