It is exactly one month until the United States presidential election of 2016 which is scheduled for Tuesday, November 8, 2016. It will be the 58th quadrennial U.S. presidential election. Voters will select presidential electors, who in turn will vote for a new president and vice president through the Electoral College. That means there's only 30 more days of commercials, phone calls, debates, social media posts, and signs posted up on the street corners.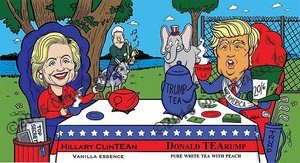 This morning I had tea from DemocraTEA2016.com. Besides being great white tea, I enjoyed the fun artwork. The Hillary ClinTEAn is vanilla flavored and the TEArump is peach flavored. The artwork on the package was a fun conversation starter at work. I enjoyed passing out the tea and when the conversation started heating up, I slipped out.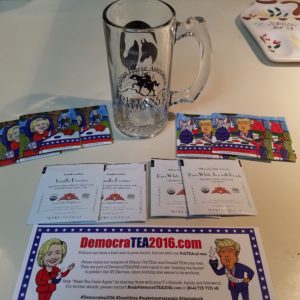 I did a review on Amazon but I thought it would be fun to post about this tea here too. You can check the review at: https://www.amazon.com/dp/B01LE20M3M
or my YouTube video at: https://www.youtube.com/watch?v=CRWVunIgLHI&feature=em-upload_owner
I looked at their website (http://www.theteabook.com/) and found they have more than just political satires for their teas. They have Collectible Teables such as Shakespearmint (mint tea) and AgathaChrisTea (earl grey tea). They have a great organizational system called The Tea Book. (hence the name of their website) It holds 144 teabag in a book rather than boxes. This is a new company, but their ideas and marketing are sound.
I enjoyed their blog post that gives several ideas on ways to reuse old tea bags. http://www.theteabook.com/blog/  My favorite tip is using it on cast iron to prevent rust.
I feel sometimes thing are taken too serious. We need a little humor in our lives. For me personally, I don't care who you vote for, just get out and vote.