Tomorrow is Thanksgiving. I've been reflecting on some of the previous Thanksgiving dinners I've been a part of. For the most part, there's only a few that were real memorable. Here's my top 3.
 When I was in the military, I worked in a very large shop. (over 100 people) We decided to do a potluck Thanksgiving dinner. We bought several large turkeys and asked for volunteers to cook them. One of my guys that lived off base said he'd cook one. So I gave him a turkey, a roasting pan, and foil. I told him to cover it with foil and cook it at 350 degrees for x number of hours. He brought the turkey in on the day of the feast. He had neglected to remove the plastic that covered the turkey or take out the neck and the giblets. Luckily we had enough turkey without his gooey plastic mess. He later confessed he had never cooked anything in the oven before and thought it would cook like food cooks in the microwave. He never cooked anything again…..
One year, I decided I didn't feel like cooking a big dinner for my husband and two kids under 3 years old. So I decided we would go out for dinner. Around 6 pm, we set out to a restaurant for a nice Thanksgiving dinner. The first place we went to was closed. The next place was also closed. The third place we went was open, but their Thanksgiving dinner was all gone. After checking a couple more places with similar results, we ended up eating at Denny's. The kids were happy because they had whipped cream for dinner. I think I ended up with a roast beef sandwich.
The most memorable Thanksgiving was a couple of years after we moved to Idaho. We were invited over to our neighbors home for dinner along with about 75 of their relatives. The only place big enough for everyone was the barn. The set up was quite interesting. The seats were hay bales and the tables were saw horses with sheets of plywood. Even though they strung up some extra lights, it was still pretty dark in there. It didn't help that it was a cloudy day.
This year, I'm not going to do a turkey on Thursday. We didn't know until late last night if my hubby would be working a 14 hour shift for Thanksgiving. He normally cooks the turkey on the smoker. I could do it, but with my back and my foot, carrying the bird and tending the smoker would be difficult. I have a turkey in the freezer, but it would not be thawed in time to cook. So this is our plan…..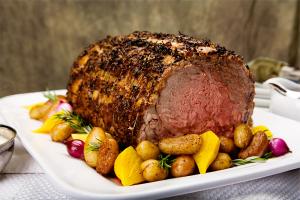 Thanksgiving will be a Rib Roast, mashed potatoes and gravy, and maple glazed carrots.
On Friday, I'll take the turkey out so it can thaw in the fridge.
On Sunday, my hubby will be smoking the turkey.
Here is the recipe for the maple glazed carrots:
INGREDIENTS:
4 tablespoons butter, melted
4 tablespoons maple syrup (or honey)
Juice of 1 lime
2 teaspoons ground allspice
8 drops doTERRA Cinnamon Bark essential oil
5 drops doTERRA Ginger essential oil
2 pounds baby carrots
Kosher salt and freshly ground black pepper to taste
DIRECTIONS:
Preheat oven to 425 degrees.
Coat large baking dish or roasting pan with oil.
In large bowl, stir butter, honey, lime juice, allspice, and Cinnamon and Ginger oils together until blended.
Add carrots and toss to coat before placing on baking pan in a single layer.
Arrange the carrots in a single layer in prepared dish or pan.
Season with salt and pepper.
Bake for 60 – 65 minutes, stirring every 10 minutes to coat with glaze.
By the way, I am very thankful for this day, my family and friends, our good health, the roof over our heads, and our ability to help others. Please take a moment out of your busy lives and help someone less fortunate than you. It could be something as easy as donating to the local food pantry or dropping a few dollars into a red kettle. You have an opportunity to do something good every day.