We recently went out to a fancy restaurant for dinner – you know one of those places where the presentation of the food is as important as the taste. We ordered Filet Mignon Steaks served over roasted new potatoes and sauteed greens. The salad was a mixture of spring greens, feta cheese, roasted almonds, and rounds of yellow and red beets with a huckleberry vinaigrette dressing. It was beautiful. Next time, I'll have to take pictures. It makes my mouth water just thinking about it.
So last night, I decided to try and reproduce the salad for dinner. I had the spring greens and feta cheese. And I has some raspberry vinaigrette dressing. That's a start. I also had carrots, cucumbers, cherry tomatoes, and jicama. I recently received the Kitchen 4 You 4 Blade Vegetable Spiral Slicer from Amazon to review. I thought this would be a perfect way to "dress up" my salad like they did at the fancy restaurant. So I started spiraling my carrots, cucumbers, beets and jicama. The 3mm blade worked well for the carrots. I used the 5mm blade for the cucumbers. I had a real hard time with the beets. They were very firm and hard to hold. So I thought maybe if I microwave them a bit. Nope. That just made them to soft and beet juice went everywhere. So no beets. I didn't try the jicama. My kitchen was a mess and Mike would be home any minute so I decided slivers around the edge would look just fine. So here's my attempt of making a fancy salad.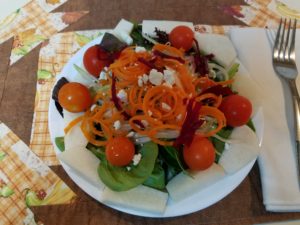 He was surprised and impressed.
This is a cute little tool to make garnishes or small amounts of spiral sliced food. I don't think I would like to try doing enough zucchini noodles for a main dish such as zucchini noodle spaghetti. There is a tool to help you hold the vegetables when they get down close to the blade. (you don't want your skin in your salad and I'm sure the blades are sharp enough to make that happen) The blades can be removed for easy cleaning.
https://www.amazon.com/Kitchen-You-Vegetable-Spiral-Slicer/dp/B01DLKZCYE   #HomgaVegetableSpiralSlicer